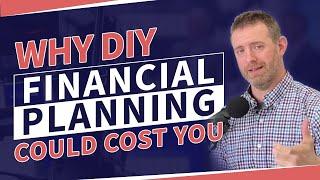 Why DIY Planning Could Cost You
Protect your wealth and guarantee a financially prosperous future for your family with Professional financial advice, tailored just for you.
Visit us here to get all the support you need: http://www.fwppartners.com
Why get a professional financial planner when you could just do it yourself?
🤔 Unfortunately, DIY financial planning rarely works in your favor. Not only could you end up leaving a lot of money on the table, you could also expose yourself to serious risks that could destroy any hopes of a safe and comfortable retirement. In this video, we'll explain why DIY financial planning never leads to better results than what a professional financial advisor can provide, and give you some real-life examples of our clients who have tried going down the DIY route (spoiler… it didn't end well)
⭐Bonus Tip: We'll also let you in on the easiest way to spot false diversification in your investment portfolio.
SUBSCRIBE on YouTube @fwpp for more wealth-building insights and insider info
CONNECT WITH US: Website: www.fwppartners.com
Facebook: https://www.facebook.com/fwppartners
Instagram: https://www.instagram.com/ericdouglas...
LinkedIn: https://www.linkedin.com/in/ericdougl...